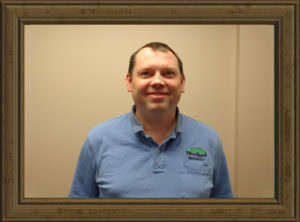 Every other Friday, we're shining a spotlight on an employee to help you get to know us better.
Our Employee Spotlight this week features our in-office technician, Chuck Amundson.
---
1. What is your job title?
Security Specialist
2. What do you do at Heartland Security?
Schedule service technicians as customer needs arise. Follow up on alarm service reports from the preceding days. Help customers with technical questions as they call in.
3. How long have you been with Heartland Security?
Since 2012.
4. What's your favorite thing about working at Heartland Security?
I like working for a company that is owned by the people. Our customers are part owners in this magic. Pricing is fair, if not better, than most organizations.
5. What's something most people don't know about you?
I went to the 16th Boy Scout World Jamboree in Australia as a youth in 1987-88. I earned a merit badge that is no longer available to be earned, Bee Keeping Merit Badge. I raised bees for honey for 2 years. I have been in Scouting since 2nd grade.
6. What do you do when you're not working?
I enjoy camping, fishing, and working with civic groups. I am currently involved with an auxiliary of the Air Force, Civil Air Patrol, and Boy Scouts of America as a Council Youth Advisor.