Worry-free independence
Every person should be able to live at home independently, safely, and securely. If you or a loved one worry about a medical condition happening at home, Heartland Security offers 2 types of medical alert systems: home-based medical alerts and GPS medical alerts.
Home-Based Medical Alerts
Our home-based medical alerts (Personal Emergency Reporting Systems, or PERS) are connected to your home phone line, and a single button push connects you to a highly trained dispatcher who is there to help, 24/7. No landline? No problem. We have an option that uses a cellular communicator and works on a cellular tower system (separate from your cell phone).
A Heartland Security medical alert system can be installed temporarily or permanently; there are no long-term contracts. The system contains two simple parts: a base unit and a wireless emergency button in a water-resistant pendant that you wear around the neck or on the wrist. Press a button on either unit for immediate help. A Heartland Security medical alert is:
Personalized – you pre-select who you want the dispatcher to call for specific situations.
Flexible – you can choose a wireless button on a neck pendant or wristband. Both are water resistant so you are even protected when you bathe.
Dependable – the Heartland Security medical alert system is a UL-certified home healthcare signaling device. Our system is built with the latest in long-range wireless technology.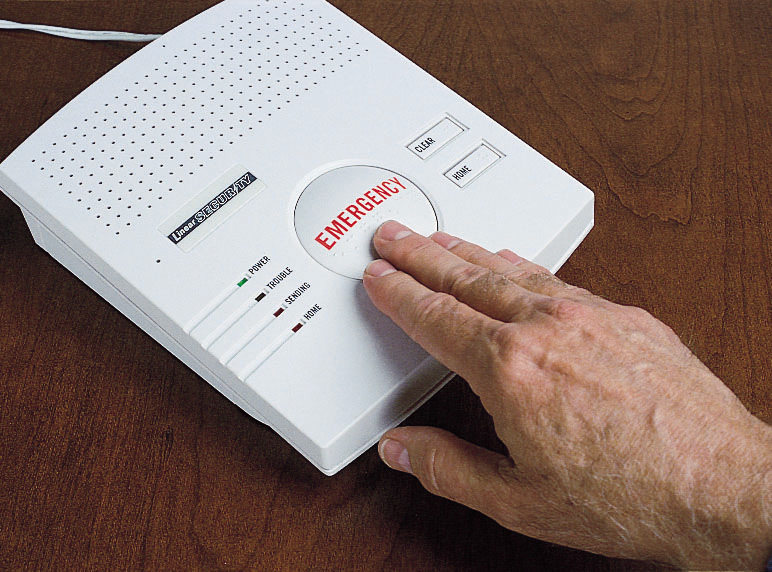 How it works
Wear the Pendant: Press the button on the base unit or pendant to receive assistance.
Get Immediate Contact: The base unit immediately calls the response center, and a trained response center dispatcher talks to you directly through the base unit to assess your condition and get you the help you need.
Receive the Help You Specify: Depending on the situation, the response center dispatcher will call the designated person you specify, whether a family member, friend, neighbor, or emergency personnel.
GPS Medical Alerts
Our SentryPal Mobile Personal Emergency Response Systems, or GPS medical alerts, use the AT&T cellular network and satellites to place a call/give a location to our response center when the button is pushed. It is dependent on the cellular/satellite coverage in the area.
A SentryPal GPS medical alert system can be installed temporarily or permanently; there are no long-term contracts. The pager-like unit can be worn on a lanyard or in a belt-clip holder. The unit must be charged every night and should be tested monthly.
I was in the kitchen getting supper ready, and I was walking over to the bread box to get some bread out. They always tell you to wear rubber soled shoes so you don't slip, and I was, but my foot stuck on the floor and my body kept going. I broke my leg in 4 places and laid there for a minute. I've got 3 phones and I couldn't get to any of them – I couldn't move. I pushed my button, and a woman's voice came from the machine and asked if I needed help. I said "Yes, I've fallen and I can't get up" just like you hear on TV, but it was the truth. She asked if there was anyone else I would like to have called and I had her call my son. I don't think it was even 10 minutes, probably shorter, and first responders were out here and then a few minutes after that the ambulance and my son were here. I don't know what I would have done if I wouldn't have had my button. I probably could have laid there for quite a while and been hollering, but I was totally impressed, grateful, and so glad that I had this little pendant.

– Betty Hanson – Brownsdale, MN
FIND OUT MORE ABOUT MEDICAL ALERTS