Glass break sensors are designed to detect when windows or other glass break. We'll show you a glass break sensor installation and explain how glass break sensors work.
How Glass Break Sensors Work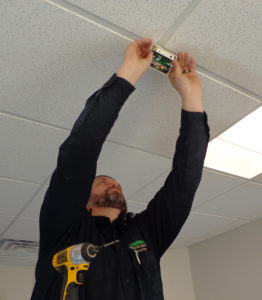 Glass break sensors look for 2 things:
1. The sonic vibration created when an object hits a window.
2. The sound and specific frequency of glass breaking.
Glass break sensors can protect an area up to 20 feet from the sensor, which contains a microphone. With this large area of protection, you can protect multiple windows.
However, glass break sensors function best when there is nothing obstructing the line of sight to the windows you want to protect. If you have heavy drapes or blinds, the sound from a breaking window may be obscured, so the glass break sensor should be closer to the windows.

Additional Perimeter Protection
Glass break sensors offer another layer of perimeter protection to help keep burglars out of your home or business. Unlike motion detectors, you can keep glass break sensors on even when you're there, giving you an extra level of protection.
False Alarms
While a dog barking is not likely to set off a glass break sensor, there have been occasions where a rambunctious dog who barks and jumps against the walls has caused a false alarm.
---
Glass break sensors offer an extra layer of perimeter protection to your security system. They listen for sonic vibrations and the sound of glass breaking. For more information about how glass break sensors as a part of a monitored security system can help protect your home or business, contact us.
Make sure you check out our blog posts about motion detectors, door sensors, and other sensors & detectors.
---
Updated May 20, 2020