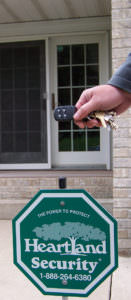 Much like a remote start for a vehicle, key fobs provide a convenient way to arm and disarm a security system without standing right by the keypad. Just like a remote start, you must be within a small distance to the house, generally around 50 feet.
You can also use a key fob within a house to arm or disarm the system. For example, if your keypad is near your garage door and you want to arm the system at night when you go to sleep, rather than having a second keypad in the bedroom, you can use a key fob.
Key fobs can also be set up to do panic indications. Press 2 specific buttons at the same time and a signal will be sent to a response center that you are under duress and need emergency assistance. Consult your key fob manual for instructions on using this feature.
If you go on vacation and leave neighbors or friends and family to keep an eye on your home, you can give them a key fob. They won't have to use your key pad and will have an easy way to arm and disarm the system.
---
Key fobs are a convenient and easy way to arm and disarm your system. For more information about key fobs as part of a monitored security system, contact us.