Medical alerts, or personal emergency reporting systems (PERS), are buttons that you wear that connect you with a response center dispatcher who can send for emergency personnel when you need help. Whether you live alone or have a medical condition that limits your mobility, a medical alert can be a solution to help you maintain your independence.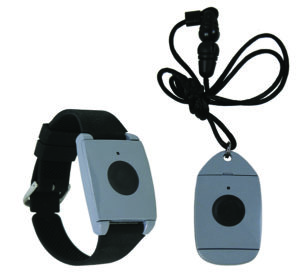 You can get a medical alert through a landline or with a cellular communicator that works on a cellular tower system. Most medical pendants are water-resistant, so they can be worn in the shower as well.
After you push the wearable button on your wrist or neck pendant, the dispatcher will ask if you need help and call the pre-selected people on your list, such as family members, friends, or emergency personnel.
There are 4 simple steps:
1. Install the system
A technician will come and install the base unit and give you the wearable button. You should be able to test the system at any time by pressing the button.
2. Wear the pendant
You can get a wrist pendant or neck pendant. In case of an emergency, press the button on the pendant (or on the base unit) to activate the call for help.
3. Get immediate contact
After pressing the button for help, a trained response center dispatcher will speak directly to you through the base unit to assess your condition and get you help.
4. Receive the help you specify
Depending on the situation, the dispatcher will call the appropriate party and explain the situation to get you the help you need.
---
Some medical alerts offer fall detection where the alert is triggered if you fall. However, these alerts can have false alarms, so it's important to figure out what kind of medical alert is right for you. For more information about Heartland Security medical alerts, call 888-264-6380 and ask for Nancy or Andrea.