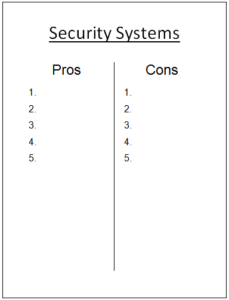 When you're doing your research and trying to decide if you should get a security system, it can help to make a list and weigh the pros and cons. We've tried to help you out with that below. Of course, since we sell security systems, we know we'll appear a little biased, but with this list, we're going off what we've heard from our customers.
Pros of a security system:
1. Peace of mind
For many people who have purchased a security system, the peace of mind is reason enough to get a system. Knowing that your response center monitors your alarm system 24/7 and immediately notifies you or the authorities if something happens gives you peace of mind whether you're home or away. A security system can give you the reassurance that you, your loved ones, and your valuables are protected.
2. Affordability
With the advances in security systems in just the last 5 years, you'd think systems would be more expensive than ever. That's just not the case. One of our customers in a recent testimonial said "I think people would be surprised by how affordable it is. I had thought something like that would cost more, but the price was great."
So is a security system worth the money? That's something you'll have to figure out before you make the commitment.
3. Protection
Alarm systems have always existed to deter and prevent burglaries, but now they can be used for so much more. Today's security systems also offer protection from environmental problems such as flooding, carbon monoxide, smoke, and fire.
4. Check on your home when you're not there
A smart home security system lets you check on your home from your smartphone, tablet, or laptop. You can view live video, arm and disarm your system, and control your lights, locks, garage door, and thermostat. You can also receive text and email alerts along with images when activity occurs.
5. Save money
While getting a security system can be a significant investment, it may qualify you for savings on your homeowner's insurance. You can also get more savings by using a smart thermostat and setting up temperature schedules. Your electric bill will go down as your energy usage lowers.
---
Cons of a security system:
1. Cost
Security systems can have a large upfront cost, but there is generally an option to pay a small amount initially with a larger monthly amount over the term of your contract. If you pay $1000 upfront, you might pay only $25/month, but if you only pay $100 upfront, you might instead pay $75/month.
Another factor besides the initial expense is the monthly monitoring. We've previously covered the average price of monitoring and the typical amount of time of a contract.
The overall cost of a security system can be discouraging. However, alarm systems are more affordable than ever before and with different pricing options, you should be able to find a solution that will fit both your budget and your security needs.
2. You have to arm the system to get it to work
If you're getting a security system for protection from burglaries, it won't work if you don't arm it. When you first get a security system, you may be steadfast and even enthusiastic about using it, but over time, that habit may change. Why have a system if you don't arm it?
3. Accidentally setting off the alarm
If you accidentally set off your alarm, you'll hear a very loud siren. You'll need to enter your passcode on your keypad within 30-60 seconds to get the alarm to stop. If you don't get there in time, you'll not only continue to hear the siren, but the response center will be notified and will try to contact you and/or send emergency personnel, depending on what you set up when you got your system.
4. Installation issues
Sometimes security systems can be a little complex to install. Based on what kind of system you have, you may have to connect the system to your router and you might need extenders/boosters to allow the system to communicate with your router. You may also run into issues if you're looking for a wired security system and your house wasn't wired for it when it was built. Also, if you have steel siding, the sensors may have trouble communicating with the main panel from a garage or 2nd building.
5. Getting contacted in the middle of the night
While 24/7 protection is one reason to get a system, many people don't want to get notified about minor issues at any time of the day or night. This can range from a low battery on a door sensor to a low battery in your control panel. While a control battery issue is important because the system could shut down, a door sensor battery is probably not an urgent issue.
---
Hopefully this list has given you some idea of whether you want to continue in your search for a security system. We'd love to talk with you about your options. If you're not ready to consider purchasing a system at this time, we understand. Take your time. Research more. But if and when you're ready, please keep us in mind. We offer a free, no obligation security analysis where we have a sales rep visit you at your home or business to discuss your security needs and create a customized solution just for you.