When you're considering getting a security system for your business, you'll have some questions.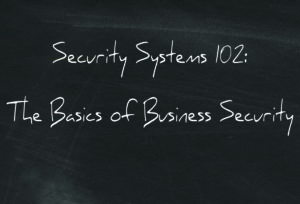 Why does my business need a security system?
How does a security system work?
What's in a business security system?
What features are available in a business security system?
What companies should I consider?
To help you better understand the security system options for businesses, we'll answer all of these questions and more.
---
Why does my business need a security system?
Each type of business has different security needs, but security systems can protect any business. As Michael Brown of PCWorld stated, "The best cybersecurity measures in the world are useless if a thief breaks into your office and makes off with your computers." Your office houses not only your employees, but your business information, trade secrets, inventory, and money. You may also have customer information, including personal data such as addresses, Social Security Numbers, or credit card information. This information needs to be protected.
Protect your physical location
You're not at your business 24/7 (although it can feel like it sometimes). A monitored security system can provide round-the-clock protection 365 days a year, looking out for not only burglary, but also fire, flooding, and for temperature variances.
How does a security system work?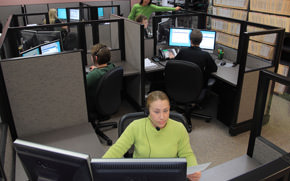 A security system is designed to detect intruders and sound an alarm. When an alarm is triggered in a monitored system, a signal is sent to a monitoring station who will then either notify the people on your call list or dispatch the authorities. Without monitoring, your system will only sound a siren when an alarm is triggered, relying solely on the noise of your system to scare off intruders.
What's in a business security system?
Main components of a business security system include a control panel, various types of sensors, and video cameras. Sensors can detect when a door or window has been opened, when a window has been broken, when there is movement within the business, and the presence of smoke, water, or carbon monoxide. Other sensors can be set (for example, in grocery stores) to detect when temperatures get too high or too low. Indoor and outdoor video cameras can record continuously or be motion-activated to start recording when someone enters a specific area.
What features are available in a business security system?
Access tracking and control
Individual employee access codes for easy tracking of who entered your facilities and when
Proximity cards granting full- or limited-access by person and schedule (good for IT rooms, hospital supply rooms, storage facilities, or manufacturing sites)
Card access that is easy to create for new hires or cancel for former employees
Keyfobs another option for employees to easily arm and disarm system
Interactive services
Monitor your security system from your smartphone, tablet, or computer
Watch live video remotely
Receive notifications when system actions are performed, such as arming or disarming of the system
Have motion-activated image clips sent directly to a smart phone to allow a business owner to determine if an emergency response is needed (or if an employee accidentally tripped the alarm)
Video surveillance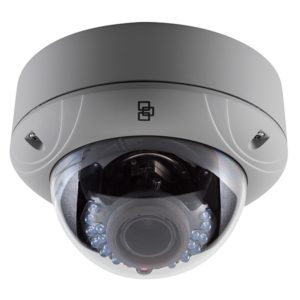 Protect everyday operations, monitor employee labor costs and guard against theft
High definition video surveillance and recording
Perimeter building protection
High resolution indoor/outdoor and night/day cameras
Digital Video Recorder (DVR) or Network Video Recorder (NVR) that can accomodate different cameras and record motion. Network capable for off-site viewings. Variable hard drive sizes for history storage. Easily downloadable to USB port or CD/DVD burner.
Monitored video security
Wireless, portable video security for remote sites such as construction areas, gravel pits, and parks
Motion-activated cameras that can record a 10-second image that is sent to a response center, which examines the image to determine if it is a false alarm and can dispatch authorities to the site
Commercial fire system (not for new construction)
Fire and sprinkler monitoring
Smoke detection
Automatic notification to fire department
Horn/strobe alarms
Other features
Personal emergency alarm buttons
High/low temperature monitoring for temperature-controlled areas (such as IT rooms or freezers in grocery stores)
Cellular units to keep your system communicating with the response center in case your landline is cut
What companies should I consider?
First, you'll want a company you can trust. Make sure the security company you select is a reputable business and runs background checks on their employees. Does the company have a website? An office? A local presence? How long have has the company been in business? Is their monitoring station UL-listed? Do they have redundant back-ups?
"If you're looking for an alarm system with central-office monitoring and the ability to have law enforcement dispatched in the event of a break-in, but you don't want to install the system yourself, a company with local installers is a good solution." (PCWorld)
You'll also want to consider whether you want a company that provides multiple services or focuses solely on security systems. Rather trusting the safety of your business to a company with other priorities besides security, a company that specializes in commercial security systems might be a better choice.
---
Whether you have a daycare in your home, a jewelry store, a grocery store, or a restaurant, every business needs security to protect their assets and employees. Installing a security system may also provide insurance savings or other benefits. A security system for your business protects you, your employees, and the business you've worked so hard for.
For more information about business security systems or to schedule a free consultation, please contact us.
Sources: Business News Daily – How to Choose the Right Business Alarm System, PCWorld – How to choose an office security system