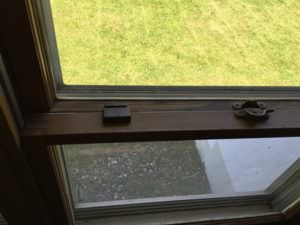 Window sensors let you know if a window has been cranked or slid open. These types of sensors tend to be found more in homes rather than businesses, as there are not as many windows that open in commercial buildings. Window sensors are another layer in perimeter protection and can be useful both for guarding against intrusion and for keeping people inside a residence.
Perimeter Protection
We recommend window sensors on all ground-floor windows and on basement windows. Some people forget to think about their basement windows when looking at their options for a security system. However, whether you have an egress window or a smaller basement window, a window sensor can protect you from a burglar trying to find an unobtrusive way to get in.
Drawbacks
There can be a few drawbacks to window sensors. Because window sensors don't let you know if the window glass has been broken, it may be a good idea to also consider glass break sensors and motion detectors. When you have an open window, window sensors won't work because the two parts of the sensor are apart. If you're home, the motion detectors won't be on either. Without working window sensors and motion detectors, you might not know if someone enters your house through an open window. To effectively secure an opened window, security screens might be an option.
---
Window sensors are another option for your security system that can help you protect your home and valuables. They are a good way to be sure that all the windows are closed when you go to sleep or leave the house. An open window is an open invitation for burglars. For more information about window sensors or to schedule a free, in-person quote, contact us.
Updated August 5, 2016