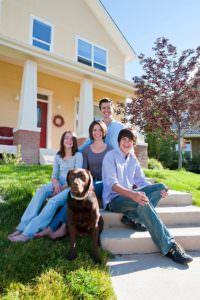 When you're considering getting a security system, you need to consider why you want it. Are you looking for protection from intrusion or from fires, carbon monoxide, or flooding? Are you looking for home automation? Do you want a security system so you can have peace of mind? Once you've figured out why you want a security system, you should consider these 3 factors.
1. Affordability
Today's security systems are more advanced than ever before. But that doesn't mean they're not affordable. Often, when new technology hits the market, it's very expensive. But after a while, the price goes down and the devices go mainstream. Security system technology has gone the same route.
Even if you get a larger system with many features and smart home capability, it can be considered an investment. Your home value may go up and with home automation you can save on your electric bill by using less energy.
You can also save on your homeowner's insurance. According to the New York Times, "The Insurance Information Institute says the average discount is 15 to 20 percent. On [the author's] homeowner's policy, the discount savings amounted to $221.93 a year."
2. Potential for loss
According to the Tiffin, OH police department and the National Crime Prevention Council, without a security system, you are 3x more likely to be burglarized.
The New York Times cited the Electronic Security Association that the average loss on a home with a security system is $3,266 compared to a loss of $5,343 for a home without a security system. FBI statistics show the average dollar loss per burglary offense was $2,185. Even at that lower amount, burglaries can be an expensive and emotionally damaging ordeal.
3. Peace of mind
A security system with monitoring assures you that your home and valuables will be protected all the time, even when you're not home. Smart home security systems can notify you when someone enters or leaves your home and can send you video clips or images so you can see exactly who's coming or going. If you've got kids, you can get notified of their activity, all the way from when they enter a room or attempt to open a liquor cabinet.
---
Some people say they don't need a security system because they have dogs or they have a gun. To that, we would like to emphasize that dogs aren't an effective deterrent for burglars and you risk injury to your pet. In the second circumstance, you would have to be home when something occurs and be able to access and use your firearm.
According to the Bureau of Justice Statistics, "An estimated 3.7 million household burglaries occurred each year on average from 2003 to 2007. In about 28% of these burglaries, a household member was present during the burglary. In 7% of all household burglaries, a household member experienced some form of violent victimization." Even though most burglaries occur when you are not home, it's important to have some kind of protection against intrusion all the time.
To figure out what kind of security system would best suit your needs and what cost you might be looking at, contact us for a free security analysis. We've been trusted for almost 20 years to help our customers protect what matters most – be it their loved ones, valuables, or property.