No one wants to imagine that their home could be broken into, but a burglary occurs every 15 seconds on average. If you've been robbed, you may be unsure as to what to do next. Who do you call? How do you recover? We've got some recommendations about what to do after a burglary.
If you find that your home has been burglarized, there are 4 important steps you should take.
---
1. Report the burglary to the police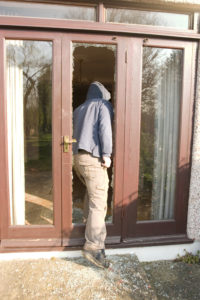 If you are outside the home when you notice your home has been broken into, do not enter. The burglar may still be inside. Call 911. Try not to touch anything or move items until the police arrive, as they may need to gather information to help their investigation. Take pictures of the crime scene. Provide as much information as you can, such as a description of a suspect (if you saw someone leaving or around your home) and a description, drawing, picture, or serial numbers of any missing items.
Reporting a burglary and filing a police report creates a written record of the burglary, which may help if you have to file an insurance claim. Also, if reports of burglaries begin to increase, police can increase patrols or may issue a burglary alert in a neighborhood.
2. Call your insurance company
Whether you have homeowner's or renter's insurance, you should call your insurance company, even if you don't end up filing a claim. You can provide them with information about the police report and see what next steps they may want to take.
3. Clean up and secure your home
After you have assessed missing items, it's time to clean up any broken glass, replace broken locks, and repair damaged doors. Try to reorganize your things and purchase new items as needed. You may also want to take steps to increase the security of your home, such as upgrading locks or installing a monitored security system.
4. Deal with the emotional repurcussions
Some people react differently to a burglary. Some can find it a severe violation of their privacy and things, while others are able to more quickly move on. You may also find yourself scared or worried about having another break-in. If you have trouble coping after a burglary, reach out to professionals who can help you cope with your feelings.
---
If you haven't been a victim of a burglary yet, we hope you never experience it. You can take precautions now, including installing or upgrading a security system as well as writing down serial numbers of high-value items. It may also be helpful to have recent pictures of your valuable items or take a video walking through your home, storing the pictures or video online or in a remote location. For even more tips on how to protect your property, see our blog post, What You Should Be Doing Right Now to Safeguard Your Valuables.
If you have a security system, make sure it is professionally monitored. If anything happens to your home when you are not there, your professional monitoring company can immediately contact the authorities.
For more information about how a Heartland Security system can protect your home, please contact us.